Are you one of the serious craziest sneaker fan then you must least watch these custom made sneakers shoes by the Freakersneaks. I said you must least watch these once because these shoes are a little expensive.
These Freakersneaks custom-made shoes start with the least 900$ so you must have a luxury budget for your shoes to buy these pairs for yourself.
Freakersneaks made customs shoes for the public, there are two ways to buy cutom sneakers for yourself.
You can buy their own made shoes for the public with a fixed price tag.

You can contact Freakersneaks to make your own custom sneaker artwork which will cost you according to your design.
Here we are sharing some available Freakersneaks public shoes which are inspired by the Nintendo classic games.
---
This pair is inspired by the Jordan air IV and the Game Boy classic game Super Mario. There is the direct connection between the air Jordan 4 and Game Boy.
These both most popular products of their time were released in the same year 1989. That is why the Freakersneaks make a new edition by mixing the Air Jordan 4 and Game Boy.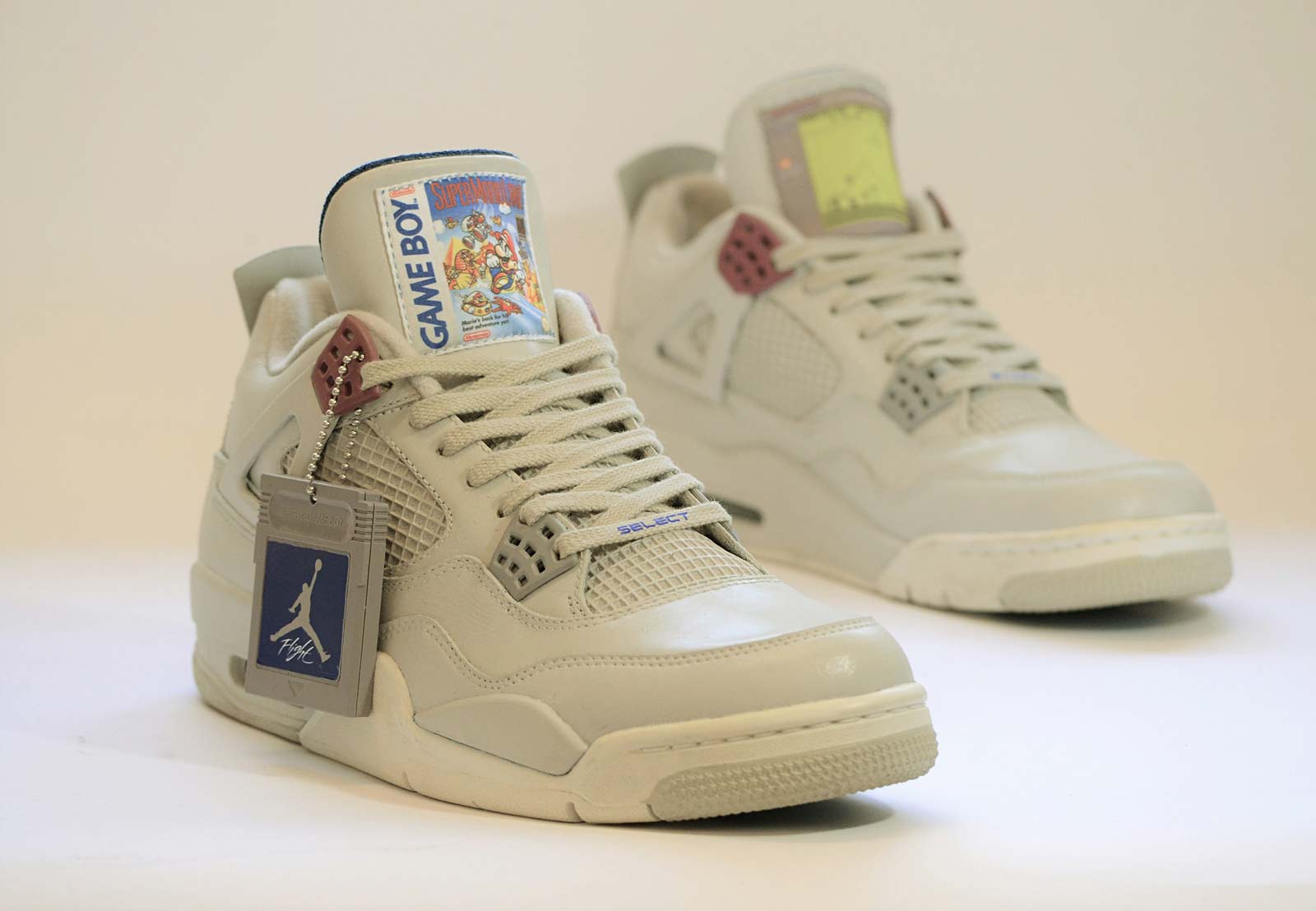 Super Mario was not the only Game Boy game which becomes popular, there were many others too. But super Mario succeed to make a separate place In the heart of millions of gamers, even today peoples never forget to mention super Mario when they talk about retro gaming.
On the back of the shoes, there is a game console button which looks very realistic and they can be clicked.
One pair of Jordan IV "GAME BOY" – Super Mario Land Edition shoes will cost you $1,350.00.
Available size: 08, 08.5, 09, 09.5, 10, 10.5, 11, 11.5, 12, 12.5, 13, 14, 15
---
This another shoe design by the Freakersneaks looks amazing with the color red, white, Black and grey. And based on the another Nintendo Entertainment System game named Legend of Zelda.
With this pair, Freakersneaks combine Jordan 4 with the game "Legend of Zelda" which was one of the 80's and 90's popular game.
According to the stats they sold around 6.5 million games copy and also was the one of the popular game series of all time.
Each pair contains official NES controllers, buttons and D-pad. And the most entertaining thing which make the shoes actual NES design is clickable D-pad.
One pair of shoes will cost you $1,250.00
Available size: 08, 08.5, 09, 09.5, 10, 10.5, 11, 11.5, 12, 12.5, 13, 14, 15
---
This pair is having the similar design and cost to Jordan "NES" IV (Legend of Zelda) Edition.
The only difference is Jordan "NES" IV dedicated to the Super Mario Bros.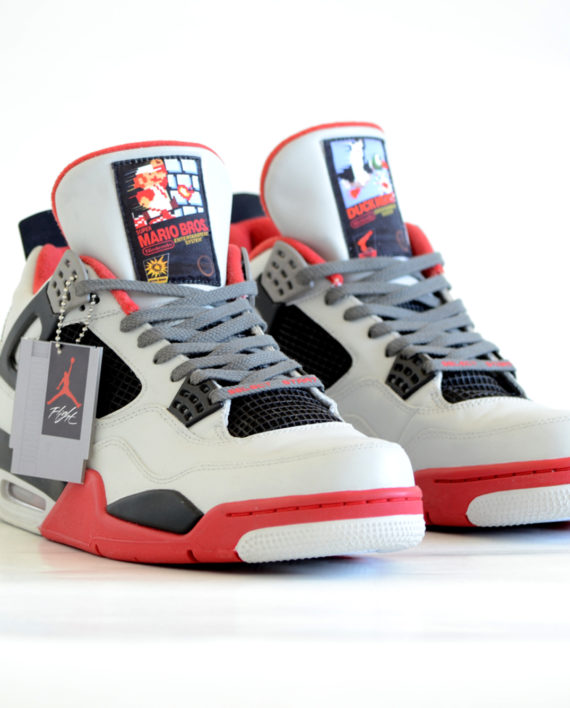 One pair of shoes will cost you $1,250.00
Available size: 08, 08.5, 09, 09.5, 10, 10.5, 11, 11.5, 12, 12.5, 13, 14, 15
---
This pair "Jordan "US Super Nintendo" IV NBA Jam Edition" will cost you $1,250.00 and come in the lighter greys in comparison to the Jordan 4 European/Japanese version. Also, shoes contain colors like purple and lilac.
The button contains on the shoes comes from the official Super Nintendo controllers and D-pad is clickable.
This pair of shoes comes with the combination of Jordan 4 and Classic NBA Jam which gives the shoes a classic Nintendo finish.
One pair of shoes will cost you $1,250.00
Available size: 08, 08.5, 09, 09.5, 10, 10.5, 11, 11.5, 12, 12.5, 13
---
About Freakersneaks
Freakersneaks was founded in the year of 2005 by John Barry who is an artist by the profession and born in the united kingdom. The company creates hand-painted custom and unique sneakers shoes.
---
Important Point
They do not work like big production shoe company, they made custom design shoes with limited pairs, that is why they are expensive and comes under the luxury shoes.
---
How You can Order Your shoes?
Step 1: fill the order form
In the first step, you have to fill a custom order form where you have to mention some of your personal details including
Name

Email

Your shoe size (UK Size)

Will you supply or not base shoes

About your project (shoe design)
Please make sure that your email is correct, that is the only way they can contact you back.
Step 2: wait for the response
You just need to be little patience, soon you will get the response from the Freakersneaks and now you can discuss the design of your custom shoes. As a professional, they will share their opinion and advice to finalize the design.
Step: 3 Payment
Once your design if final, at the third step you have to make the half payment to confirm the order so they will start working on the shoe. And the next half payment you have to pay before the shipment. The shoe final price will be decided on the time take by the shoes to be complete.
Once the design finalized you will get the invoice. Now you have 24 hours to pay the invoice. Otherwise, it will cancel.
---
Which kind of design Freakersneaks do?
First, let me clarify that they do not just make shoes inspired by the Nintendo. You can give them your idea and inspiration to make a custom pair for yourself.
If you are inspired by the football or any other stops or anything. You just need to tell them and they will give you every possible idea. You just need to tell them which kind of design you are looking for and they will assist you with the best.
---
The Cost Of Custom Sneaker?
The amount can't be fixed because all shoes are custom with a different design, artwork, and difficulties. According to the Freakersneaks, the price of artwork will be 150 to 800.
They also make shoes with their own design so you can also buy from their store with their fixed price tag, or you can go with your own custom design.
---
What Is Their return Policy
Because every pair is made for some specific person with their specific design so they do not accept the return or refund. The shoe will be only returned in case of the wrong size.
---
How Much Time Freakersneaks Will Take To Deliver The Order?
It depends on your shoes design and availability, but you can expect order will take 1 to 4 week of time. But in case the design is too much complex so it can take more time.
---
Can You Send Your Shoes?
Yes, you can send your shoes to the studio address, you just need to tell them that you are interested to give your own shoes. So they will give you the studio address where you can send your pair.
---
Which Country They Ship?
They ship to every country, you can order your pair from anywhere.